Webinar on the Cold-Formed Steel Classroom: Understanding the Fundamentals Behavior of Cold-Formed Steel Members
$100.00
Continuing Education Credits Available – 1.5 PDH Credits
The concepts of cold-formed steel behavior and design are not typically taught in engineering schools and therefore engineers are often required to self-teach these concepts. Therefore, if you are an entry level structural engineer, or a seasoned veteran, this CFSEI lecture is intended to provide a fundamental understanding of the some of the behavior and design principles for cold-formed steel members and connections. Roger will draw on lecture materials used in his semester course and three-day short course to explain the unique aspects of cold-formed steel behavior and design principles of AISI S100. The seminar will also discuss the roll-out of a new CFSEI Six-Hour lecture series that provides an overview of cold-formed steel member and connection behavior and design.
Presenter: Roger LaBoube, Ph.D., P.E.
Wei-Wen Yu Center for Cold-Formed Steel Structures
Dr. Roger A. LaBoube is Curator's Distinguished Teaching Professor Emeritus of Civil, Architectural and Environmental Engineering and Director of the Wei-Wen Yu Center for Cold-Formed Steel Structures at the Missouri University of Science & Technology (formerly University of Missouri-Rolla). Dr. LaBoube holds B.S., M.S., and Ph.D. in Civil Engineering from the University of Missouri-Rolla. Dr. LaBoube has an extensive background in the design and behavior of cold-formed steel structures. His research and design activities have touched on many facets of cold-formed steel construction to include: cold-formed steel beams, panels, trusses, headers, wall studs as well as bolt, weld, and screw connections. Dr. LaBoube is active in several professional organizations and societies, including a member of the American Iron and Steel Institute's Committee on Specifications for the North American Specification for the Design of Cold-Formed Steel Structural Members and chairman of the AISI Committee on Framing Standards. He is a Registered Professional Engineer in Missouri.
In order to receive credit for this course, you must complete the quiz at the end and pass with at least 80% for a certificate to be generated automatically
Related Products
Webinar on Introducing AISI S250: Your Starting Place for Determining Thermal Transmittance through Cold-Formed Steel Framing
Continuing Education Credits Available – 1.5 PDH Credits
The webinar introducing AISI S250, North American Standard for Thermal Transmittance of Building Envelopes with Cold-Formed Steel Framing, will walk attendees through the history, development and contents of the AISI S250 standard. Participants will obtain a relative understanding of how to apply the various provisions in order to evaluate the thermal capabilities of envelope assemblies (e.g., walls, ceilings/roofs) containing cold-formed steel framing for use in professional practice. Jonathan Humble led the work group responsible for the development and publication of the AISI S250 standard.
Presenter: Jonathan Humble, FAIA, NCARB, LEED BD+C
American Iron and Steel Institute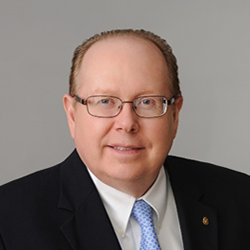 Jonathan Humble is a Regional Director of Construction Codes and Standards for the American Iron and Steel Institute (AISI). He holds Bachelor's and Master's degrees in Architecture from the University of Wisconsin-Milwaukee, is licensed as an architect in Connecticut and Massachusetts, is NCARB-certified, and holds a LEED AP-BD+C credential. He has received architectural awards for his designs while in the practice of architecture.
Jonathan was inducted into the American Institute of Architects (AIA) College of Fellows for his outstanding contributions to the AIA and its membership. He is a recipient of the International Code Council's Honorary Membership, ASHRAE International's Distinguished Service Award, National Fire Protection Association's Committee Service Award, and the Cool Roof Ratings Council's Marty Hastings Award, all in recognition of his exceptional service and contributions to these codes and standards organizations.
Jonathan's activities within AISI include research and development of new technologies for AISI standards and guides, participation in national model codes and standards development, and educational services to steel industry members, design professionals, code officials, general contractors and building owners.
In order to receive credit for this course, you must complete the quiz at the end and pass with at least 80% for a certificate to be generated automatically
$

100.00
Add to cart