View cart
"Webinar on Cold-Formed Steel Floor System" has been added to your cart.
Webinar on Introducing AISI S250: Your starting place for determining thermal transmittance through cold-formed steel framing
$100.00
Continuing Education Credits Available – 1.5 PDH Credits
The webinar introducing AISI S250, North American Standard for Thermal Transmittance of Building Envelopes with Cold-Formed Steel Framing, will walk attendees through the history, development and contents of the AISI S250 standard. Participants will obtain a relative understanding of how to apply the various provisions in order to evaluate the thermal capabilities of envelope assemblies (e.g., walls, ceilings/roofs) containing cold-formed steel framing for use in professional practice. Jonathan Humble led the work group responsible for the development and publication of the AISI S250 standard.
Jonathan Humble, FAIA, NCARB, LEED BD+C
American Iron and Steel Institute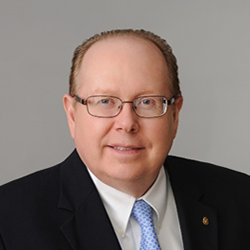 Jonathan Humble is a Regional Director of Construction Codes and Standards for the American Iron and Steel Institute (AISI). He holds Bachelor's and Master's degrees in Architecture from the University of Wisconsin-Milwaukee, is licensed as an architect in Connecticut and Massachusetts, is NCARB-certified, and holds a LEED AP-BD+C credential. He has received architectural awards for his designs while in the practice of architecture.
Jonathan was inducted into the American Institute of Architects (AIA) College of Fellows for his outstanding contributions to the AIA and its membership. He is a recipient of the International Code Council's Honorary Membership, ASHRAE International's Distinguished Service Award, National Fire Protection Association's Committee Service Award, and the Cool Roof Ratings Council's Marty Hastings Award, all in recognition of his exceptional service and contributions to these codes and standards organizations.
Jonathan's activities within AISI include research and development of new technologies for AISI standards and guides, participation in national model codes and standards development, and educational services to steel industry members, design professionals, code officials, general contractors and building owners.
In order to receive credit for this course, you must complete the quiz at the end and pass with at least 80% for a certificate to be generated automatically.
Related Products
Webinar on Design Considerations for Cold-Formed Steel Light Frame Diaphragms
This webinar will cover the basic design of cold-formed steel light frame diaphragms as envisioned in the provisions articulated in AISI S100-16, North American Specification for the Design of Cold-Formed Steel Structural Members, 2016 Edition; AISI S230-19, North American Standard for Cold-Formed Steel Framing―Prescriptive Method for One- and Two-Family Dwellings, 2019 Edition; AISI S400-15 w/S1-16, North American Standard for Seismic Design of Cold-Formed Steel Structural Systems, 2015 Edition with Supplement 1; and AISI S240-15, North American Standard for Cold-Formed Steel Structural Framing, 2015 Edition. Design practice documents derived from these AISI Standards will also be addressed. At the conclusion of this webinar, design professionals will have a better understanding of current provisions that support engineered design (strength and deflection) of conventional codebased light frame cold-formed steel diaphragms as well as the limitations of these provisions.
Presenter:
Raymond van Groll, M.Sc.(Eng), P.Eng.,
Atkins + Van Groll Inc.
Reynaud Serrette, Ph.D. is a professor in the Department of Civil, Environmental and Sustainable Engineering at Santa Clara University in Santa Clara, California. He has been involved in cold-formed steel research and design since 1987.
Raymond van Groll assisted in the development of the Canadian Sheet Steel Building Institute (CSSBI) "Lightweight Steel Framing Design Manual." Some of his most notable projects include Chelster Hall Estate in Oakville, the Louis Vuitton Flagship Store in Toronto, The Rosseau, J.W. Marriott Resort & Spa, and Corktown Condominiums in Toronto.
$

100.00
Add to cart